In Sweden, more than 18,000 people suffer an acute ischaemic stroke every year. With correct and rapid treatment of stroke, both lives are saved, and the affected person can avoid lifelong disability, something that both provides increased quality of life for the patient and saves big money for society. The new treatment options that have emerged over the past decade require more knowledge in healthcare, which is one reason for the new course offered through MedTechLabs.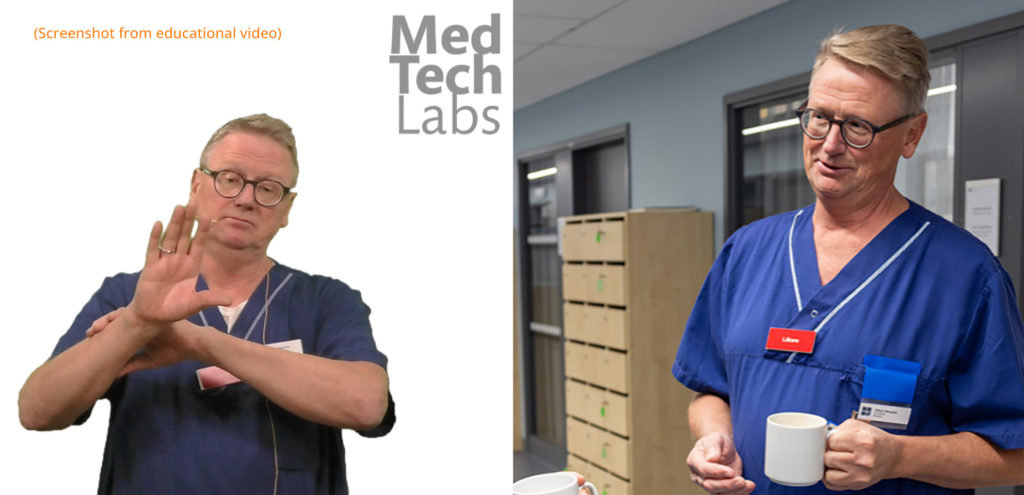 The course "Acute stroke, diagnostics and treatment" organised by MedTechLabs started in October 2023. The course is aimed at residents and specialists who want to train in this area to better follow the national recommendations and guidelines for examination and treatment of stroke and TIA. The new course was offered to doctors in Region Stockholm as well as in other parts of the country and was quickly oversubscribed.
We spoke with Håkan Almqvist, senior physician and neuroradiologist at Capio St Göran, who is responsible for the course. Håkan has worked almost all his professional life with stroke, first at SÖS and later as a neuroradiologist at Karolinska and has followed the modern development of how to find and eliminate thrombi/embolisms since the late 90s.
Hi Håkan, can you tell us a bit about the course and why it is given?
"The course aims to provide knowledge about the benefits of acute reperfusion therapy within 24 hours in several patient groups, including those with relatively large established infarcts. The management and assessment of TIA is also included in the course. "The biggest problem with stroke care is still that patients come in too late, so it's important that everyone in the community knows that help is available and picks up the phone if they have symptoms. But we in the healthcare chain also need to be on our toes and know what is needed for the patients. We must dare to be rational and inclusive, even if there is a low probability of stroke. Because it can be difficult to know whether your judgement is correct. Doctors need to see many cases to become skilled in their judgement and that takes time, especially in a smaller hospital."
How do you deliver the course?
"In the first round, we offer it free of charge to 40 participants who receive around 30 video lectures and case study material with commentary, which we distribute using Collective Minds Radiology and their radiological imaging system. It is up to the student how much time they spend on that part, but I would say it is about two and a half days, at their own pace. In addition to this, we have a mandatory physical meeting in the form of a seminar in Stockholm where case studies are discussed. The knowledge check takes place at this seminar and active participation is required to obtain the course certificate."
Who came up with the idea for this course?
"Many of us realised early on that there was a lack of continuing education for the new forms of examination and treatment that have emerged in the field. When MedTechLabs started, it was realised that there was a need for training in the region. Professor Staffan Holmin, together with KTH professor Mats Danielsson, saw an opportunity for the centre to contribute to and provide training. "As early as 2018, we started recording parts of the material that is now used in the course, along with new material in 2023. The pandemic and questions about which platform to use have meant that it has taken some time."
What do you think has made the course so popular?
"The course only corresponds to a few days where you choose when for about 1 month. That certainly has an impact. But it is up to the student how much time they spend. I think long courses are becoming more difficult to attract. That we have a hybrid approach with self-study with lectures and being able to browse cases combined with a physical seminar with the teachers. A course must also be able to provide both a course certificate and an ST certificate. This is probably exactly what many doctors are looking for in terms of continuing education."
When will you hold the course next time?
"This is the first time we have held it, and we will of course further develop it based on the feedback we receive from the course participants. Then we will see how many times a year is reasonable. It is also a question for Region Stockholm, which this time allowed doctors from other regions to attend free of charge. But hopefully we will also organise the course in 2024."