A new centre that brings together current and future expertise and technology in medical imaging. Expectations for the Centre of Imaging Research (CIR) and what it can achieve in terms of research, industry collaboration and clinical application are sky-high. In this article, Daniel Lundqvist, who heads the centre, talks about how the CIR will make its mark in Sweden and internationally.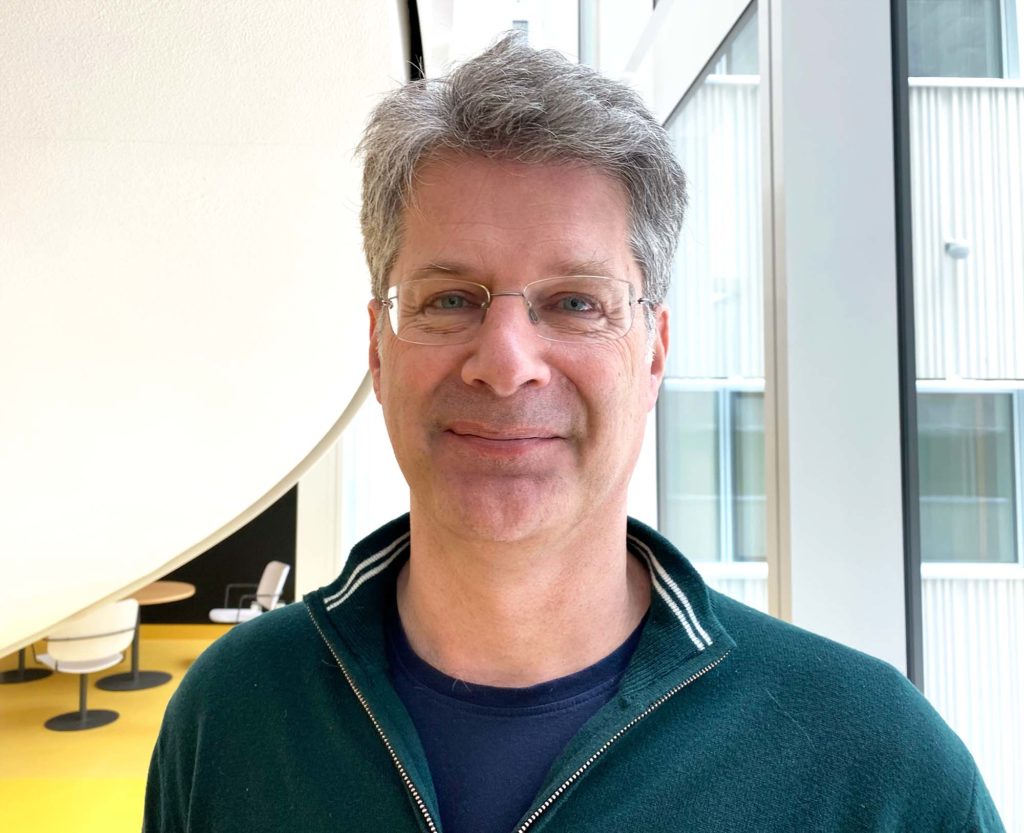 Daniel Lundqvist formally became director of CIR - Centre for Image Research - in October 2022. The importance of the new centre was marked by the participation of both Karolinska Institutet's President Ole Petter Ottesen and Karolinska University Hospital's CEO Björn Zoëga in the inauguration. Most of the centre is in Karolinska University Hospital's BioClinicum research building, which is also well integrated with KI. MedTechLab's CT lab is now part of the CIR infrastructure. One block away is the Scilifelab, which also conducts research in the field of imaging.

Daniel Lundqvist is a brain researcher at KI and has a passion for medical infrastructure. He explains that the first thoughts of a single imaging centre came more than 20 years ago, and that brain researcher Martin Ingvar, former head of the MR Centre, and Staffan Holmin, physician and research leader at MedTechLabs, were among those who started working on realising the ideas early on. 

The CIR will bring together the best instruments, platforms, and technologies available in medical imaging, and Daniel has started building the centre's structure and initial operations. 

– In addition to the co-location, we have upgraded with the latest in medical imaging technology. But I want to emphasise that as important as it is to have all this great technology in one place, it is equally important to bring together all the experts in the field of imaging so that they can collaborate and learn from each other, Daniel explains. 

By bringing these people together, level four of the BioClinicum also forms a professional community that is unparalleled in the world. The CIR is likely to be attractive to researchers internationally, which will benefit recruitment to research projects linked to the centre. 

One goal of the CIR is to create benefits for users in research, healthcare and industry. The centre makes it possible to devote resources to their common needs, such as a new platform for storing and sharing image data, which would have been difficult for the various users to create on their own.

The activities at CIR will contribute to the translation of research results into clinical activities, known as translational research. This is facilitated by the proximity to Karolinska University Hospital, which is just a stone's throw away with its doctors and patients.

CIR is partly based on imaging facilities that have already existed for a long time at Karolinska Institutet and Solna University Hospital. What is new is that these are being brought together physically. An important reason for establishing the centre was the realisation of how important it is to be able to perform multimodal imaging, i.e., to combine different types of imaging. Today, this is a logistical challenge when facilities are scattered in different locations, and it also puts a strain on patients or research subjects when they must be moved around. Surprisingly rarely, for example, MRI, MEG, PET and CT are combined on the same individual, even though it is often important to obtain a detailed and multifaceted overall picture. The CIR will therefore enable a wide range of imaging of the structure, function, and metabolism of living organs, using the various modalities of technology available and constantly evolving. The diagnosis and study of cancer, cardiovascular diseases and brain imaging are the focus. For example, NatMEG, a national infrastructure for magnetic encephalography that is one of the most advanced in the world, will be part of the centre. 

One of the CIR's strengths is that we have the very latest or even tomorrow's methods that we are evaluating and trying to utilise. Such as the new photon counting CT technology with silicon detectors that is now being validated in MedTechLabs and a new MRI with ultra-high field strength, called 7-tesla, which is available in Huddinge. - We are currently upgrading NatMEG with an improved system for measuring brain activity with a 128-channel system for on-scalp MEG. This is the latest and greatest in the world," says Daniel.

The centre's ability to provide researchers and clinicians with more information about the appearance, function and metabolism of organs can be of great importance for individual patients with severe diseases. Daniel takes epilepsy as an example: 

- In the brain, epileptic seizure activity can begin as an intense activation of a very small cortical region, which then expands over time to involve progressively larger and larger cortical areas. If a patient needs surgery to remove the part of the brain where seizure activity starts, one will naturally want to identify the exact starting point as accurately as possible. With the technology available at CIR and NatMEG, we believe that it will be possible to find the seizure activity's starting point more accurately and thus the method can also guide the neurosurgeon with greater certainty, says Daniel.

Another exciting area where CIR could play an important role is theranostics, which combines therapy and diagnostics. Theranostics uses a targeted radiopharmaceutical that can identify and diagnose the extent of a cancer, and then treat the cancer either with a therapeutic radiopharmaceutical (or with targeted oncological treatment).  This method successfully improves the effectiveness of cancer treatment while maintaining quality of life. The field is relatively new and rapidly developing. Sweden has an internationally prominent position in the field, and is among the most active countries in Europe, both in the preclinical development of theranostic drugs to translating and participating in clinical theranostic studies and in initiating them. 

Nationally, there are many links to CIR and Daniel is already involved in several Swedish coordination projects where the focus is on sharing and making data available. Internationally, the centre will also be an important Swedish node for various research collaborations, such as the European e-infrastructure for brain research, EBRAINS. Synchronising CIR with EBRAINS will make it easier for CIR's imaging platforms and users to share and use data in European collaborations between researchers, clinicians, and industry. 

- It has taken a while to realise what a great job I have been given and I am both proud and humbled by this assignment. Since I have worked with imaging issues and imaging infrastructure for a long time, I know that it can be challenging and involves a lot of responsibility. But it is so exciting to be involved in creating something that offers new and unique opportunities that will ultimately benefit healthcare and patients. I share this feeling with many others who will work here at CIR, concludes Daniel.



How photon counting CT is changing the healthcare. 20th of October 2022, Dr. Amir Pourmorteza held a lecture titled "State of the art and future for medical imaging in healthcare" at Karolinska Institutet, invited by MedTechLabs. We had a chance talking to him just after the well visited seminar at Nobels väg 11 in Solna.

Hi Amir! You're in Stockholm for the disputation of Fredrik Grönberg for which you were the opponent. And now you held this much appreciated lecture. What else will you be doing at your stay here?
– I will also see the new photon counting CT-scanner at MedTechLabs just across the street from here. This, and meeting and discussing with colleagues here at KI and KTH. I also brought some samples that could be useful for developing new applications of this technology.
What is your key take-away of what photon counting imaging will bring about to the healthcare?
– Photon counting CT gives us ultra-resolution, obviously, but there are also applications that simply are not possible without photon counting. Like spatial resolution and multi-contrast imaging. In oncology where you use different contrast agents to determine the treatment, this will be very useful. Photon counting CT will also be used in minimal invasive surgery. It takes time for the surgeon to follow the vessels and find the right path. With robotics and 3D-guidence, these processes will be faster and better. And it will be possible to use automation better, at least for parts of the surgery, which is a huge step. One thing that my research shows it that with ultra-resolution, we will now also have to consider anatomic movement, this was not of importance before. In the same way that we make motion estimation and correction adjustments for medical imaging of the heart, we will need to do it for the abdomen and the brain. Everything in the body pulsates. So, this is an open problem right now.
So, big changes for the surgeon and physician?
– There might be an adjustment for the radiologists as well, because they will have to read different kind of images. Will it take longer time to identify a tumor with a ultra-resolution image than a standard image, because of all the new information, or will it be easier? There will be new challenges for the computer programmers as well. These are non-technical issues, but they are important and will affect the workflow. There are only about 1 000 ultra-resolution scans in the whole world right now, so we don't know that much on how working conditions will change.
What areas besides cancer and tumors will be getting better diagnosis and treatment?
– There are many, but I can give you one example. Children with cystic fibrosis will need to have many scans once the disease is identified. With photon counting CT their radiation doses could be reduced with 95 percent. The drugs used for their conditions come with side effects, so you really want to verify if they have the desired effect on the individual child. With photon counting imaging it's easier to see in detail if the airways are benefiting from the drug used, you could see changes in the thickness of the mucus within one month instead of having to wait three months to see the effects. This also important since the drugs used are expensive, you don't want to waste them.
Dr. Amir Pourmorteza is an assistant professor of Radiology and Biomedical Engineering at the Emory University and Georgia Institute of Technology. He is the director of Advanced Medical Imaging and Reconstruction Laboratory at Winship Cancer Institute. His research interests include translational of CT technologies and the impact of novel CT technologies on clinical workflow. He is an internationally known pioneer in the field of photon-counting CT. Dr. Pourmorteza was a staff scientist at the NIH Clinical Center where he conducted numerous first-in-human experiments on photon-counting detector CT.
Sara Norman is Director of Operations at the Swedish Kidney Association. In this interview, Sara explains how the Federation views research into new treatments and clinical trials, among other things.
Hi Sara! What challenges do you see regarding new treatments in healthcare?
– I can give an example. There is currently a new treatment being researched that will help patients whose own antibodies easily reject foreign organs to still manage a transplant. The NT Council (Council for New Therapies) has recommended that regions use this treatment. Yet the treatment is not available because the region does not know who will pay. Unfortunately, I have seen this before, that research comes up with new, fantastic possibilities for patients, but then the regions are left with their budget and do not know where the money will come from.
How can this be changed?
– One problem is information, that not enough people in healthcare know about the new treatments. At the Kidney Association, we keep a good eye on the surrounding world and can see when the regulatory authorities bring up treatments for recommendation and give their approval. But doctors are not always reached by this information, sometimes patients are better informed than they are. Procurement rules can also hamper the introduction of good medical technology into healthcare. Pressured by finances, healthcare providers make poor procurement decisions that can pose safety risks. Similarly, procurement rules can hamper new and effective solutions because of a lack of expertise or because the rules make it impossible. So more than information, some regulations and procurement practices may also need to be modernised.
Clinical trials are needed for the development of new medical technologies, how do you view these?
– My understanding is that the attitude to participate in clinical trials is very good. Then there is the challenge of inviting patients to participate. The Kidney Association has 4,000 members. In total, about 4,000 people in Sweden receive dialysis and more than 6,000 have a transplanted kidney. These people don't always want to think of themselves as kidney patients, but they would benefit personally from kidney research and new methods. But in our association, there are many who are driven by the possibility to feel better and members are super interested in ongoing research and research results.
How do you see your involvement in MedTechLab's Patient Council?
– We want to contribute to the dialogue between patients and research, which is one of the reasons for the Patient Council. Then we can inform our members about the research through our channels. If there is ongoing research that concerns our members, they want to hear about it. It doesn't have to be about finalized results, but everything that is going on and concerns them is of interest.
Read more about the Kidney Association on their website
Annika Hässler is a specialist in general medicine and pain management, as well as a rheumatologist. In this interview, however, her role is as chairperson of Funktionsrätt Stockholms Län, a patient and disability association that brings together 44 associations in several different disease areas, such as cardiopulmonary diseases, diabetes, epilepsy, and mobility impairment. The association participates in MedTechLab's Patient Advisory.

Hi Annika, what have you been working on for the Swedish elections?
– We have a big launch of a new concept, Functional Impact Assessment, the complicated word we abbreviate FKB. It is based on the UN Convention on Disability and can be compared to the requirement for environmental impact assessments that exist today. We have published a handbook on FKB which can be downloaded from our website. We have also be working on health issues such as assistive devices, rehabilitation, and public transport issues.
What challenges do you see connected to new treatments in healthcare?
– Today there are definitely barriers to bringing in the new methods. This could be for several reasons, such as the difficulty of getting the clinical trials that are needed. A new treatment may be more expensive and stopped for this reason. Tradition has quite a big impact, a clinic does not always want to change approaches and treatments that they know work. Sometimes it is pure ignorance or a fundamental lack of interest in innovation.
How can that be changed?
– It's not that easy. One way is continuous training of health care providers, something that is otherwise often saved. But this inevitably brings participants face to face with the latest developments, and that is very important. The fact that the method in question becomes public knowledge, for example through the media, can put pressure on patients and patient organisations to start these treatments. Well informed patients mean a lot.
How can more people be encouraged to take part in clinical trials?
– There is a need for more knowledge, for patients and relatives to understand what these involve. It's also easy to overlook the importance of trust, that's the most important thing of all. If the patient has confidence in the provider, they are more likely to participate. With the new Swedish law concerning good and equal care, it may be easier to recruit to clinical trials because the law is about expanding primary care. One challenge will be to get hospital doctors to want to move to primary care, which is already understaffed.
How do you see your involvement in MedTechLab's Patient Advisory?
– The exchange of knowledge between patient associations and research needs to be reciprocal, we can contribute a lot through our experiences. So, I am looking forward to that in our participation with the Centre. Then I see the opportunity in creating joint seminars. I believe very much in meetings as a communication method to increase the level of knowledge, we need interaction, not exclusive printed material.
Read more about Funktionsrätt Stockholms Län on their website
Contributing to European level infrastructure. Fredrik Strand's research group has been granted SEK 3 million from EU as one of the participants in the EUCAIM (European CAncer IMaging) project. The aim of EUCAIM is to establish a European infrastructure for medical cancer imaging.
Hi Fredrik, what would such a European infrastructure entail and when could it become a reality?

– Developing accurate machine learning algorithms requires a lot of data, often more than what is available locally. In addition, as we move towards precision medicine, i.e. choosing treatment more individually based on the specific characteristics of the cancer tumour, the need increases even more. International cooperation is essential for this development.

What will you use the research funds for?

– The EU project is well aligned with our ongoing VAI-B project, which aims to create a national platform for the evaluation of AI algorithms in breast radiology. We hope to contribute with the knowledge we have accumulated in the past, but also with X-ray images and clinical data in a federated solution at European level.
Read more about the call here
New Phd in Medical Science and focusing on non-invasive vagus nerve activation. Alessandro Gallina has the ultimate goal to bring discoveries on neural regulation of non-resolving inflammation to clinical trials.
1. What research are you doing at MedTechLabs?
I am currently working on several projects at the Stockholm Center for Bioelectronic Medicine at MedTechLabs. Primarily, study how the vagus nerve regulates inflammation and am involved in developing new technology for specific non-invasive activation of the vagus nerve.
2. What impact are you hoping your research will have?
Our program at MedTechLab brings together different laboratories, expertise, point of views, and approaches, to find novel ways to overcome methodological limitations and bridge the gap between scientific discoveries and clinical implementation.
My work has the ultimate goal to bring our discoveries on neural regulation of non-resolving inflammation – a condition that underlies many chronic inflammatory diseases, including debilitating cardiovascular and rheumatic diseases – to clinical trials. I hope that the outcome of my research will improve the quality of life for patients, and maybe even prolong life for patients suffering from debilitating excessive inflammation.
3. When might the results be of practical use to patients?
In our most recent paper from the Stockholm Center for Bioelectronic Medicine at MedTechLabs (Caravaca, Gallina et al., PNAS, 2022), we show how electrical activation of the vagus nerve in the neck promotes resolution of inflammation, which is an important part of healing from infection and tissue damage. These results improve our understanding of how inflammation resolves and heals.
Since electrical vagus nerve stimulators are already approved and used in clinical trial for treatment of inflammation, clinical studies that build on these findings can be planned in the near-term. Our technology for non-invasive vagus nerve stimulation is currently being developed for human use in a start-up company supported by KI Innovations. Accordingly, we expect this technology and these insights to be part of clinical trials in in the coming 2-3 years.
4. What is your background and motivation as a researcher?
On the 1st of April 2022 I defended my doctoral thesis: Understanding Inflammation Requires Neuroscience, and I am now a Doctor of Philosophy in Medical Sciences from the Karolinska Institutet. I have a Master Degree in Neurosciences and a Bachelor's Degree in Biology. Between my MSc and the beginning of my PhD studies I have been employed as research assistant in the Department of Medical Biochemistry and Biophysics (Biomaterials division) at Karolinska Institute, where I had the opportunity to merge the knowledge acquired during my master studies with the foci and techniques of the hosting laboratory, the Ana Teixeira's Lab. Aimed to deploy novel approaches in clinical research, I then joined the Peder Olofsson's group, the Department of medicine (Cardiovascular Medicine division) at the Karolinska lnstitutet at Bioclinicum, to start my PhD studies.
I have always had a passion for solving a variety of problems via interdisciplinary approaches, which is reflected in both my academic choices as well as in my doctoral studies and publications. The Stockholm Center for Bioelectronic Medicine at MedTechLabs has allowed me to fully explore this passion, being able to establish several collaborations with experts in fields far from mine, and finally face many, often old, questions still in need of an answer.
Elisabet Schesny is deputy chair of the Swedish Breast Cancer Association (Bröstcancerförbundet), Sweden's only interest organisation focused solely on breast cancer. The association represents its 11,000 members on the MedTechLabs Patient Advisory.
Hi Elisabeth, what will you be working on during this election year?
– We will be focusing on the demand for equitable care, an issue that is incredibly important to our association. This involves raising issues related to the introduction of methods for individualised screening based on the woman's risk of developing breast cancer (today, everyone is given the same screening in the mammography programme), the right of all patients to rehabilitation and equitable access to new drugs across Sweden.
What challenges are you aware of regarding new treatments in healthcare?
– Naturally, it is frustrating that it takes so long for new drugs and technologies to reach the health service. It takes a long time for a drug to work its way through FDA approval, then the same process with the European Medicines Agency (EMA) and then finally receive approval here in Sweden. Then there is a problem in that Sweden has so many regional health authorities, each with its own budget, and new treatments and technologies are therefore not made available equitably. It shouldn't matter where in the country one lives. For patients with a serious illness such as breast cancer, this is a matter of life and death.
How can we change that?
– We are promoting the cause of equitable care, as this is an extremely important issue for us. As things stand, regional health authorities prioritise differently and the time it takes for patients to gain access to new treatments can therefore vary. One possibility worth considering is to centralise implementation, but not operational healthcare. A survey conducted by the Swedish Breast Cancer Association showed that only four of ten people with the most common form of breast cancer received treatment conforming to current research and recommendations. We use this example in our advocacy and opinion building work to demonstrate that, in the field of breast cancer, treatment is not equitable.
How can we persuade more people to participate in clinical studies?
– In the present situation, where studies are often conducted in a large, regional hospital, it can prove difficult to recruit widely. One wonders whether clinical studies ought to be national and include multiple hospitals all over the country. Research nurses are based at major hospitals: how can we get more of them into smaller hospitals? Multidisciplinary conferences to discuss patient cases have a role to play in assessing appropriate clinical studies for each patient. Treating physicians are responsible for informing patients. Contact nurses should also be able to inform their patients. Both of these professions need to be well-informed about which clinical studies may be relevant to their patients and what the benefits are for patients who participate a given study. While there is often written information in waiting rooms about clinical studies that are recruiting patients, patients in the waiting room are focused on something else entirely while waiting for their appointment and may well be anxious about what the doctor is going to tell them. And then, information about individual clinical studies can be convoluted when it should be patient-friendly and easy to understand. There are any number of things that patient organisations can contribute to a clinical study, such as insights into anticipated concerns and discomfort regarding certain elements of the study, or helping to ensure that unreasonable demands are not made in terms of how many hospital visits the patient is expected to make to complete the various parts of the study. The participation of patient organisations is often limited to certain areas but, in some cases, it is a matter of more significant involvement in which the patient organisation becomes almost an equal partner. It is also reasonable to discuss the question of whether remuneration for patient organisations that contribute to research projects should be budgeted from day one.
How do you feel about your participation in the MedTechLabs Patient Advisory?
– It has become more common to try and include patient organisations in the research process, as MedTechLabs is doing, and we are delighted to contribute given our resources and opportunities to do so. Patients in general are not particularly well-informed about innovations in medical technology and the implications for them personally; how research is implemented and how high-tech equipment works. It can also be difficult to grasp what an interdisciplinary centre actually does and what it means to have industrial partners as a necessary component. So, I hope that by participating on the Patient Advisory we can exert influence so that our members and other target groups can learn more about what research can mean for breast cancer patients; for example, by encouraging MedTechLabs to inform about its operations in an easily understood manner.
Learn more about the Swedish Breast Cancer Association at brostcancerforbundet.se /
A radiology resident at Karolinska University Hospital with an interest in breast imaging research. Mattie Salim is a radiology resident at Karolinska University Hospital and Phd Student at Karolinska Institutet. She is also affiliated to MedTechLabs.
What research are you doing at MedTechLabs?
– My research is about how we can use AI CAD to improve breast cancer screening. Breast cancer is the most common cancer type among women in the world today. And even though the breast cancer mortality rate has decreased since breast cancer screening was implemented in Sweden in the 90's there is still room for improvement. In our ongoing randomized clinical study ScreenTrustMRI, we explore different algorithms to select women for supplemental MRI screening to detect missed cancers.
What impact are you hoping your research will have?
– That earlier detection with the help of AI will minimise the number of missed cancers that otherwise would have been more advanced at the time of diagnosis. Advanced breast cancer come with a poorer prognosis, therefore early detection is of great importance to further reduce breast cancer mortality.
When might the results be of practical use to patients?
– Since its an ongoing clinical trial we won't know the results until the study is complete, our aim is by the end of 2023. By then we are hoping to have examined 1 000 women with MRI screening. We wish for our results to lead to an improvement in today's breast cancer screening programme. However, since MRI is very expensive, we depend on our results to know if the combination of AI and MRI is socioeconomically justifiable.
What is your background and motivation as a researcher?
– Early in my career as a physician i realized i wanted to be a researcher. I have been doing research at Karolinska Institute on the evaluation and implementation of AI CAD algorithms since 2019. Being part of Fredrik Strands research team has given me the opportunity to conduct important and exciting projects. My motivation is all breast cancer survivors and my focus is the more than 650 000 women who die of breast cancer each year in the world.
Interview with researcher and innovator Niclas Roxhed. Niclas Roxhed wants to create a European Kendall Square in Hagastaden.

Niclas Roxhed took over as permanent director of MedTechLabs in November. As a researcher, he is renowned for both his inventiveness in the field of medical technology and his ability to translate new ideas into projects, business opportunities and patents. One of his most famous inventions is a pill that can be swallowed to inject drugs into the stomach lining. In this article, he discusses his research, entrepreneurship and how he sees Stockholm developing as a life science region.
What is it you do in your research?
"I lead the medical microsystems group at KTH. We work with things that are small enough to have in the body, such as microneedles that can penetrate the skin deep enough to deliver drugs but without being felt. Another area is minimally invasive brain therapy, where it is possible to insert minute implants containing drugs via the blood vessels. One idea we are working on is to insert implants into brain tumours and then activate them with a remote control, turning the drug delivery on and off as required."
And you are a cofounder of the blood test company Capitainer?
"Quite so, Capitainer is a spinoff from my research at KTH. We develop technology that simplifies sampling of blood and other bodily fluids. The vision is to provide access to accurate measurements of biomarkers or drug levels on a much more frequent basis than is currently the case. Today, we might measure blood content on a few occasions, at the beginning of a treatment and so on. By simplifying tests, we can monitor the treatment and disease progression over time and achieve an entirely different level of insight and quality in the treatment."
I believe that Capitainer has developed a kit for home testing that has been trialled during the pandemic?
"Our method ensures an accurate amount of blood on the sampling card and is so simply you can do it yourself at home. The correct amount of blood is crucial to measuring the right concentration of antibodies in the body. At the start of the pandemic we sent out our test kits to a random sample and had a good response rate. We repeated the process at the end of April and could see that 12% had been infected with COVID. At the time, there were no accurate figures available for the infection rate in Sweden. We conducted new tests in the summer to see what effect vaccination was having. I think our excellent response rate is down to the fact that we employ a copywriter when designing our mailshots."
Why did you decide to go into research?
"I read electrical engineering at KTH and I guess I was thinking in terms of joining a company such as Ericsson. During my education, I began to wonder whether I should use my abilities to develop the next generation of mobile phone, or if there was something that felt more important. My conclusion was that I should set my sights on medical technology, where there were exciting challenges that involved people's lives, which would motivate me more. Given that attitude, it was only natural to study for a doctorate, as a Degree of Master of Science in Engineering is not really sufficient if one wants to achieve great things."
Could you tell us more about microsystems and medical technology?
"It might involve using light to create small microchips with a very high transistor density, or defining mechanical structures at nanometre level using etching or other techniques. We develop various types of sensors, as well as solutions for mechanically releasing drugs. For example, it's possible to create a membrane to encase a drug capsule and then specifically affect it to control when it releases the drug. By using multiple membranes, one can release the right dose at the right time."
You have also found time to conduct research at MIT. How did that come about?
"Professor Robert Langer works there and he is a doyen of drug delivery, as well as one of the founders of Moderna. He and physician and gastroenterologist Giovanni Traverso came up with the idea of delivering drugs from inside the intestine using needles. They started looking at microneedles that could be swallowed through the oesophagus and wanted a postdoc who was familiar with that field. Their announcement reached KTH, where we were among the first to work with microneedles, although in our case on the skin. This was in 2015, at which point I already had three doctoral students of my own. Still, as they were researchers who had long been an inspiration to me, I wrote that I would like to assist with the project. We found a solution whereby I combined a sabbatical year with a half-time salary from MIT as an expert. My family and I moved there for 18 months, until 2017. That work resulted in an article in Science with a famous illustration of our pill standing up in the correct position in the stomach ready to give the injection. We later developed a similar capsule for the intestine."
What is your own view of innovation and research?
"For us, it's deeply ingrained. We develop highly specific applications and we are used to working closely with companies. When that collaboration pays off, it can save lives all over the world, something that has happened at our division previously. We also generate a great many patents; if I'm not mistaken, I am one of the KTH researchers with the most patents? Still, I have a long way to go to catch Bob Langer, who is both the most cited engineer in world history and the holder of most medical-technology patents. So, in my world innovation and research are intimately linked. If it is to pay off for society and for those who invest in research, the results need to be applicable in practice and protected by patents. Bob Langer has started some 30 companies and his commitment allows him to attract both money and good people. The fact that we have a COVID vaccine today has a great deal to do with Bob being such an entrepreneur. Even before the vaccine, someone calculated that Langer had affected the lives of two billion people with his innovations. Now, there are even more."
In terms of research, what do you think is the difference between the United States and Sweden?
"One thing that immediately struck me as odd was the unconditional way they approached things. As they have greater resources in the US, they can afford to allow a doctoral student to take a thousand measurements of a given thing without having any clear idea at the beginning of what it might lead to. Their approach seemed almost idiotic! Why invest resources in something when we have no idea how we might use it? I now realise that one of the keys to their success is that they find and discover things almost by chance. While they're at it, they also generate more and richer data that contributes to research in the long term. That's one big difference compared to how things work in Sweden."
What would you like to see more of in medical technology research?
"We should bear in mind that Sweden has a history of doctors and engineers working together to develop new medical technology; that's how the gamma knife and pacemaker came about. But we need even closer interdisciplinary collaboration in order to achieve even greater feats. The time I spent in the US was very inspirational. What they have there that we do not yet have at KTH is their own animal facilities where they conduct experiments. This drives research on faster to the next stage, makes it more relevant and creates a greater impact. Thanks to my research collaboration with physician and researcher Staffan Holmin I have started to use the animal facilities at Karolinska Institutet, KI. So, these days I commute back and forth between KTH and KI. I look forward to KTH, KI and Karolinska University Hospital growing closer, even physically. As we get to know the organisations at KI and the hospital, the doctors and other staff there, this will facilitate collaboration."
Finally, what are your hopes for Stockholm as a life science region?
"I hope that we get our own Kendall Square, like they have at MIT, where spinoffs, researchers and the business community are close enough to share coffee breaks. When Bob Langer was a postdoc in the 1970s, the area around Kendall Square was a slum; now, it's the world's leading life science centre. I wasn't convinced that colocation was such a big deal, but it really creates expectations and ideas among the people who work in the area; one becomes more aware of the companies based there and their development. The area around KI, in the newly built Hagastaden district between Stockholm and Solna, can change in the same way and become a place that makes you say 'wow' when you visit it."
On Friday 29 October, we inaugurated our new CT laboratory at BioClinicum, adjacent to Karolinska University Hospital in Solna. In addition to a tour of the laboratory and an ensuing reception, several speeches were given on the significance of the new CT laboratory. The following is an excerpt from the speech given by Sigbritt Karlsson, president of KTH Royal Institute of Technology.
"I would like to congratulate all of you who have worked so hard for many years to bring this new instrument here. This is an example of the drive that a researcher must have, to believe in one's idea and work really hard to realise it. Way back in the early 1980s, when I was a student at KTH, I read a course on medical technology. Today, this field has grown, leading to the establishment of MedTechLabs, as well as to what is now SciLifeLab, a joint effort between ourselves, KI, Uppsala University and Stockholm University. These are fantastic organisations that reveal how crucial engineers are to Swedish and international healthcare."

"That said, another incredibly important factor is collaboration. There are of course many pressing societal problems that demand solutions, and ideally we would like these yesterday, so it is vital that we have diligent researchers pondering them before the rest of us. And to have this multidisciplinary, interdisciplinary facility, MedTechLabs, constantly developing new equipment, thinking further ahead than we others, this is incredibly important to us all."

"Because I'm sure we all have people close to us who are ill in various ways and, of course, we want them to have the very best care and the very best technical solutions. Clinical researchers and our researchers at KTH work together to build better diagnostics, something that is essential to reducing suffering and can even extend human life. So, our close collaboration with Karolinska Institutet and Region Stockholm is extraordinarily important. It has provided KTH researchers with a better, patient-centred understanding of the problems and how we need to work in order to solve them."

"In turn, KTH has worked on the mathematics and physics of this machine. It is this that has made it possible to increase the precision, to increase the resolution. We contribute with biomedical imaging, machine learning and artificial intelligence, techniques that are also necessary to continue this development. Today, MedTechLabs is a well-established platform for cutting-edge medical technology initiatives and we are seeing more and more of these becoming clinical reality, in patient-centred healthcare. Today, we take the next step with this photon-counting imaging technology."