Great research into small medical technology
Interview with researcher and innovator Niclas Roxhed. Niclas Roxhed wants to create a European Kendall Square in Hagastaden.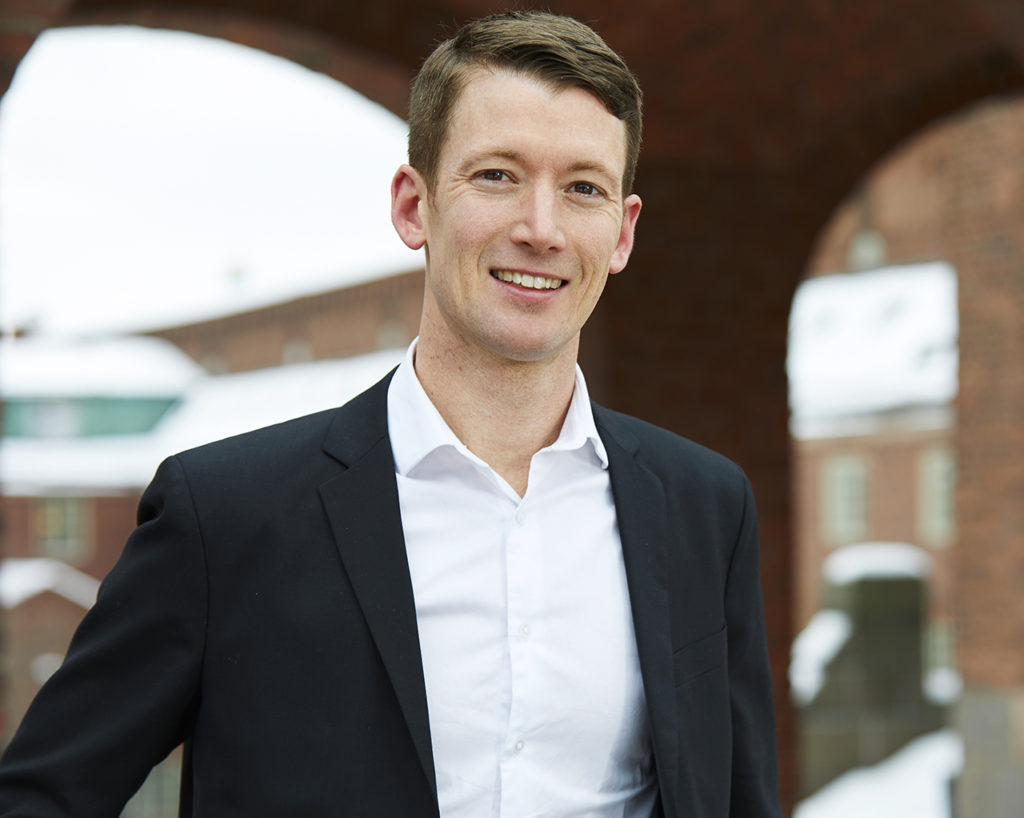 Niclas Roxhed took over as permanent director of MedTechLabs in November. As a researcher, he is renowned for both his inventiveness in the field of medical technology and his ability to translate new ideas into projects, business opportunities and patents. One of his most famous inventions is a pill that can be swallowed to inject drugs into the stomach lining. In this article, he discusses his research, entrepreneurship and how he sees Stockholm developing as a life science region.
What is it you do in your research?
"I lead the medical microsystems group at KTH. We work with things that are small enough to have in the body, such as microneedles that can penetrate the skin deep enough to deliver drugs but without being felt. Another area is minimally invasive brain therapy, where it is possible to insert minute implants containing drugs via the blood vessels. One idea we are working on is to insert implants into brain tumours and then activate them with a remote control, turning the drug delivery on and off as required."
And you are a cofounder of the blood test company Capitainer?
"Quite so, Capitainer is a spinoff from my research at KTH. We develop technology that simplifies sampling of blood and other bodily fluids. The vision is to provide access to accurate measurements of biomarkers or drug levels on a much more frequent basis than is currently the case. Today, we might measure blood content on a few occasions, at the beginning of a treatment and so on. By simplifying tests, we can monitor the treatment and disease progression over time and achieve an entirely different level of insight and quality in the treatment."
I believe that Capitainer has developed a kit for home testing that has been trialled during the pandemic?
"Our method ensures an accurate amount of blood on the sampling card and is so simply you can do it yourself at home. The correct amount of blood is crucial to measuring the right concentration of antibodies in the body. At the start of the pandemic we sent out our test kits to a random sample and had a good response rate. We repeated the process at the end of April and could see that 12% had been infected with COVID. At the time, there were no accurate figures available for the infection rate in Sweden. We conducted new tests in the summer to see what effect vaccination was having. I think our excellent response rate is down to the fact that we employ a copywriter when designing our mailshots."
Why did you decide to go into research?
"I read electrical engineering at KTH and I guess I was thinking in terms of joining a company such as Ericsson. During my education, I began to wonder whether I should use my abilities to develop the next generation of mobile phone, or if there was something that felt more important. My conclusion was that I should set my sights on medical technology, where there were exciting challenges that involved people's lives, which would motivate me more. Given that attitude, it was only natural to study for a doctorate, as a Degree of Master of Science in Engineering is not really sufficient if one wants to achieve great things."
Could you tell us more about microsystems and medical technology?
"It might involve using light to create small microchips with a very high transistor density, or defining mechanical structures at nanometre level using etching or other techniques. We develop various types of sensors, as well as solutions for mechanically releasing drugs. For example, it's possible to create a membrane to encase a drug capsule and then specifically affect it to control when it releases the drug. By using multiple membranes, one can release the right dose at the right time."
You have also found time to conduct research at MIT. How did that come about?
"Professor Robert Langer works there and he is a doyen of drug delivery, as well as one of the founders of Moderna. He and physician and gastroenterologist Giovanni Traverso came up with the idea of delivering drugs from inside the intestine using needles. They started looking at microneedles that could be swallowed through the oesophagus and wanted a postdoc who was familiar with that field. Their announcement reached KTH, where we were among the first to work with microneedles, although in our case on the skin. This was in 2015, at which point I already had three doctoral students of my own. Still, as they were researchers who had long been an inspiration to me, I wrote that I would like to assist with the project. We found a solution whereby I combined a sabbatical year with a half-time salary from MIT as an expert. My family and I moved there for 18 months, until 2017. That work resulted in an article in Science with a famous illustration of our pill standing up in the correct position in the stomach ready to give the injection. We later developed a similar capsule for the intestine."
What is your own view of innovation and research?
"For us, it's deeply ingrained. We develop highly specific applications and we are used to working closely with companies. When that collaboration pays off, it can save lives all over the world, something that has happened at our division previously. We also generate a great many patents; if I'm not mistaken, I am one of the KTH researchers with the most patents? Still, I have a long way to go to catch Bob Langer, who is both the most cited engineer in world history and the holder of most medical-technology patents. So, in my world innovation and research are intimately linked. If it is to pay off for society and for those who invest in research, the results need to be applicable in practice and protected by patents. Bob Langer has started some 30 companies and his commitment allows him to attract both money and good people. The fact that we have a COVID vaccine today has a great deal to do with Bob being such an entrepreneur. Even before the vaccine, someone calculated that Langer had affected the lives of two billion people with his innovations. Now, there are even more."
In terms of research, what do you think is the difference between the United States and Sweden?
"One thing that immediately struck me as odd was the unconditional way they approached things. As they have greater resources in the US, they can afford to allow a doctoral student to take a thousand measurements of a given thing without having any clear idea at the beginning of what it might lead to. Their approach seemed almost idiotic! Why invest resources in something when we have no idea how we might use it? I now realise that one of the keys to their success is that they find and discover things almost by chance. While they're at it, they also generate more and richer data that contributes to research in the long term. That's one big difference compared to how things work in Sweden."
What would you like to see more of in medical technology research?
"We should bear in mind that Sweden has a history of doctors and engineers working together to develop new medical technology; that's how the gamma knife and pacemaker came about. But we need even closer interdisciplinary collaboration in order to achieve even greater feats. The time I spent in the US was very inspirational. What they have there that we do not yet have at KTH is their own animal facilities where they conduct experiments. This drives research on faster to the next stage, makes it more relevant and creates a greater impact. Thanks to my research collaboration with physician and researcher Staffan Holmin I have started to use the animal facilities at Karolinska Institutet, KI. So, these days I commute back and forth between KTH and KI. I look forward to KTH, KI and Karolinska University Hospital growing closer, even physically. As we get to know the organisations at KI and the hospital, the doctors and other staff there, this will facilitate collaboration."
Finally, what are your hopes for Stockholm as a life science region?
"I hope that we get our own Kendall Square, like they have at MIT, where spinoffs, researchers and the business community are close enough to share coffee breaks. When Bob Langer was a postdoc in the 1970s, the area around Kendall Square was a slum; now, it's the world's leading life science centre. I wasn't convinced that colocation was such a big deal, but it really creates expectations and ideas among the people who work in the area; one becomes more aware of the companies based there and their development. The area around KI, in the newly built Hagastaden district between Stockholm and Solna, can change in the same way and become a place that makes you say 'wow' when you visit it."