Capitainer awarded with "Guldpillret"
Spinn off from KTH and Karolinska Institutet awarded for quality assured dry blood sampling. We congratulate MedTechLabs acting director Niclas Roxhed with colleagues at Capitainer, who just won Guldpillret (The Golden Pill) 2021 and the prize of SEK 100 000.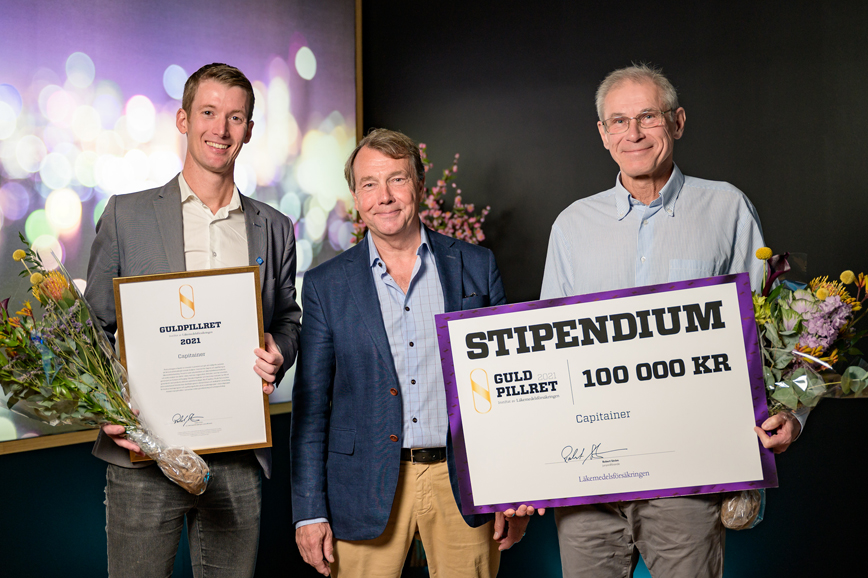 The award was founded by The Swedish Pharmaceutical Insurance and is presented in collaboration with industry magazines Dagens Medicin and Apoteksmarknaden. Capitainer is sprung out of a research group from KTH Royal Institute of Technology and Karolinska Institutet.
The company Capitainer has 10 fulltime employees and are aiming for an international market. The researh group continues to develop the method with, among others, SciLifeLab, in order to develop a protocoll for the analysis of thousands of proteins using just one small sample. Hence the method could be used for large screening pograms and follow-up studies.
Read an article about the award and Capitainer published by Dagens Medicin here (in swedish).
Photo: Pax Engström Nyström