CT-pioneer aquires Prismatic Sensors
Recently the GE Healthcare acquisition of Swedish Prismatic Sensors, a spinoff from KTH Royal Institute of Technology, was disclosed. The technique is presumed to revolutionize the CT-area and also shows the potential that collaboration between academia, healthcare and industry has for Swedish medical technology.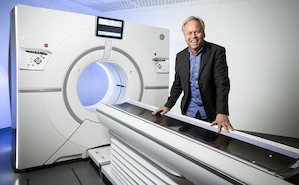 The founder of Prismatic Sensors, professor in physics Mats Danielsson, is also one of the initiators of and research leader at MedTechLabs, an interdisciplinary centre for medical technology, run by KTH Royal Institute of technology, Karolinska Institute, KI and Region Stockholm.
– The acquisition is a recognition not only of the research from KTH but also of that the region holds world class in the area of medical technology. This is probably the biggest event within computer tomography since the technology came into use in the 70ies, says Mats Danielsson.
Together with the KI-researcher and physician Staffan Holmin, Mats Danielsson also leads the area "medical imaging and minimal invasive methods" at MedTechLabs, where some of the clinical tests of the new technology has been conducted.
– This technology brings many advantages to the healthcare. It will be easier to distinguish between different tissues and materials. Tumors in early progress and inflammatory conditions will be easier to detect. Larger richness of details could make some invasive interventions possible to avoid and we hope to be able to diagnose stroke in the cerebellum and the brain stem more effectively, Staffan Holmin explains.
He adds that lower doses of radiation are of importance for all patients, not least when examining children. Staffan Holmin also means that the result is a school example of how Swedish basic research and collaboration between medical and universities of technology could drive innovations to great benefit for both patients as well as the healthcare and the industry.
– This is also the underlying strategy for MedTechLabs, where researchers from KTH and KI are able to examine patients in a hospital environment with capabilities for advanced care at close hands. Researchers, industry companies and hospitals from other countries are very curious on our setup, since most places in the world lacks similar infrastructure to study medical technology in collaboration with tehnical and medical universities, industry and healthcare, says Staffan Holmin.
In the 1970-ies, GE Healthcare was first in the world to introduce a commercial CT-scanner and since then it has continued to develop the technique. In 1979, Allan M. Cormack and Godfrey N. Hounsfield was awarded the Nobel Prize in physiology/medicine for the research leading to computer tomography.
Through the acquisition of Prismatic Sensors, the company has increased its presence in the medical technology cluster of Stockholm-Uppsala, where it is a large employer with approximately 250 people employed across research, manufacturing, sales and administration. With the acquisition of Prismatic Sensors, GE Healthcare welcomes the company's highly skilled researchers and strengthens its' position within imaging.
– Our Molecular Imaging team in Uppsala is a strategic part of GE Healthcare with both technical development and manufacturing playing a central role in our portfolio. Now, with the acquisition of Prismatic Sensors and the further development of next generation photon counting CT technology, our Swedish-based GE Healthcare teams will continue to contribute to the health of millions of people worldwide, says Wei Shen, global general manager for Premium CT at GE Healthcare.
Already before the acquisition of Prismatic Sensors, GE Healthcare had collaborated several years with Mats Danielsson. It started with informal contact in 2015, after which goals were set for the development work. GE Healthcare also lent out the CT-scanner that Mats and his team later modified with their technology, which uses silicon-based detector materials instead of those based on cadmium. Unlike cadmium, silicon-based detectors have the potential to provide superior spectral resolution while maintaining a high spatial resolution.
– The Karolinska Institute is also already an important partner to GE Healthcare. There are several areas of collaboration on going not only in CT, but in MR, as well as Molecular Imaging.
Wei Shen says that it is with great interest that her company is following the build-up of the patient-oriented research infrastructure that MedTechLabs has started in connection to the new Karolinska University Hospital in Solna.
See also press release from GE Healthcare:
www.ge.com/news/press-releases/ge-healthcare-pioneers-photon-counting-ct-with-prismatic-sensors-acquisition